How to Slay Like a Mother:
A chat with Katherine Wintsch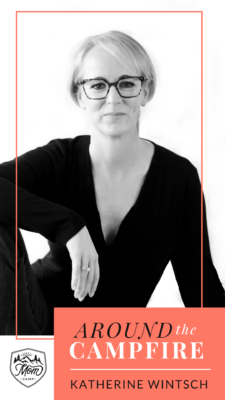 In today's episode I chat with Katherine Wintsch, founder & CEO of The Mom Complex, and author of Slay Like a Mother. The subtitle of the book is "How to destroy what's holding you back so you can live the life you want." It's all about slaying your inner dragons, recognizing that inner monologue that often seems like it's trying to take you down. She talks about the mask we wear when we say everything is "fine," the difference between struggling and suffering, and how to avoid unrealistic expectations. We talk about her concept of the "perfect mom paradox," the comparison game, setting boundaries and being kinder to ourselves. She has incredible insight into the mom experience, the woman experience and the human experience.
Katherine's bio:
Katherine dedicates her life to making the lives of mothers easier. In her role as founder and CEO of The Mom Complex, she helps the largest companies in the world such as Walmart, Johnson & Johnson, Chobani and Baby Dove better understand and support their mom customers and employees.
And in her latest venture, Katherine combines 10+ years of groundbreaking research on motherhood with her own personal journey in her popular book Slay Like a Mother.
Parade magazine recently named Slay Like a Mother, one of the "top 10
life-changing self-help books of the year" and Katherine's research has been featured by The Today Show, The New York Times, The Wall Street Journal and Fast Company.
Katherine is a recipient of the "Working Mother of the Year" award by the Advertising Women of New York, the "Outstanding Woman" award from the YWCA and most recently a "Woman of the Decade" award from the Women's Economic Forum in India.
You can find Katherine online at:
www.instagram.com/slaylikeamother
https://www.slaylikeamother.com/
Her book: 
How to Slay Like a Mother: A chat with Katherine Wintsch