Starting a new fitness routine can seem like an overwhelming move, to the point that a lot of people don't even get started. What type of exercise to do, the routine to follow, what to eat, and how to stay motivated. Not to mention how to make sure your results are sustainable.
But it doesn't have to complicated, confusing or scary. It's actually super simple. Exercise, nutrition, and support. That's the formula you need, and exactly what this challenge will give you.
The workouts
We go for 8 weeks – enough time to establish some new habits and achieve awesome results, but not too long as to feel never-ending. The workouts are just 4 days a week, streamed online and each under 40 minutes a day. All in the comfort of your own home, or anywhere you have internet access. Completely doable for a busy mom. The program is a well-balanced combination of weights, high intensity interval training (HIIT) and core. If you don't have access to weights, there is a resistance band option for all routines. Not sure about the intensity? There is a modifier for all moves, who takes out impact and difficulty as you need it.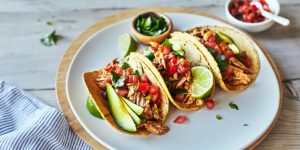 The food
You'll have a simple, easy to follow nutrition plan, with great recipes that you can incorporate into your daily life. No crazy restrictions, and enough food to keep you satisfied and fuelled for the workouts.
The support
And the best part – the accountability group. This private support group will keep you motivated and accountable. We share recipes, meal plans, support each other towards our goals, blast through roadblocks and keep each other motivated. Plus personal coaching from Gillian every step of the way. Even though you workout in your own home on your own, you're not in this alone!
The challenge includes:
one year access to Beachbody on Demand, the online portal where you will stream your workouts. You will have access to not only the program we'll be following in this challenge, but also every workout program that Beachbody has produced.
a complete nutrition guide to customize your meal plan
30 days of Shakeology, a meal replacement shake that will help curb your sugar and carb cravings, while making sure you're getting the BEST nutrition
shaker cup to make it easy to stay on track when you're on the go
personal coaching from me
a private accountability group to keep you on track
access to my EXCLUSIVE lifetime support group
If this sounds like the jumpstart to your fitness that you've been looking for, or even if you would just like more info, fill out the form below and I will follow up by email with details.
You can be anywhere in the US, Canada or UK to join this challenge.