The art of tidying up…when you have kids:
A chat with KonMari expert Randeep St. Jacques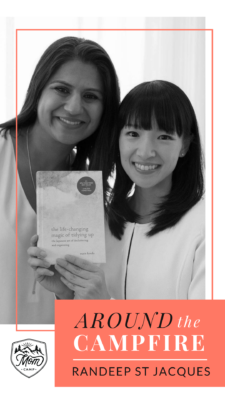 Do you feel like the clutter will never end, as long as you have kids living at home? More papers, more special works of art coming home, more sizes of clothes being handed down…how do you manage it all? In this episode I chat with Randeep St. Jacques, a certified KonMari consultant. She takes us through the process of how she helps her clients using Marie Kondo's method, the thoughts behind the stuff we choose to keep, and we chat about some of the situations where sentimental clutter can become a challenge.
Randeep's bio:
Randeep St. Jacques is a Certified KonMari Consultant, and the founder and President of ClutterLess Living. Being an avid reader led her to Marie Kondo's The Life-Changing Magic of Tidying Up: The Japanese Art of Decluttering and Organizing. She found joy in implementing the KonMari methodology in her home, and this led to ClutterLess Living. Randeep has two children, an 8 year old girl and 5 year old boy, which helped her create skills to support clients with families that need support and structure to help with the day-to-day life. The organizing process was invigorating and allowed her to make personal life decisions with fewer obstacles in the way. She enjoys supporting her clients in their quest to bring order to their homes.
The art of tidying up...when you have kids: A chat with KonMari expert Randeep St. Jacques