Releasing the pressure in emotional moments:
A chat with Stephanie Rosenfield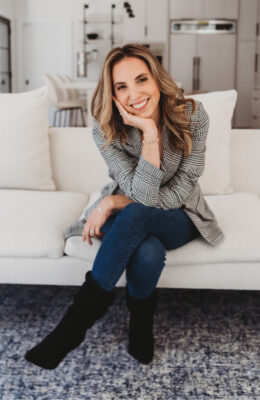 In today's episode I am chatting with Stephanie Rosenfield. A former speech pathologist, Stephanie is now a life coach who works with overwhelmed moms to help them navigate the internal and external chaos that can creep up during motherhood. Stephanie shares how you can reframe the moments when you feel like you're going to lose your cool – it's about releasing "a little bit of air out of the balloon," taking some of the pressure off in those moments.
This chat is full of moments of wisdom that you will be able to take away and put into action in your own life. Enjoy!
Stephanie's bio:
Stephanie Rosenfield is a former speech pathologist turned life coach for overwhelmed moms. She helps her clients navigate the internal and external chaos that often creeps up during motherhood, without losing their ish. Using first-hand experience, training as a certified life coach and an honest, judgment-free approach, Stephanie helps moms shift their habits and mindset to become the calm mom they've always hoped they could be.
Website
Social links
Podcast:
Releasing the pressure in emotional moments: A chat with Stephanie Rosenfield