Staycation: The Perfect Family Getaway
Have you ever taken a "staycation?" The dictionary defines a staycation as "a vacation spent in one's home country rather than abroad, or one spent at home and involving day trips to local attractions." Now, our home country is MASSIVE and I wouldn't consider taking a six hour flight to Nova Scotia as a staycation, so for the purposes of this post we're going to define it as somewhere close enough that you can drive within just a few hours, or alternately as the definition says, staying at home and taking day trips. 
We were invited to take a staycation this past weekend, by VancouverMom.ca, River Rock Resort & Casino and Tourism Richmond. The city of Richmond is about an hour from our home and even though it's totally accessible, we usually only head there to go to Vancouver International Airport. Once a year we venture out to explore the local Richmond community of Steveston, as we've made a family tradition of biking along the dike and rewarding ourselves with Pajo's fish and chips and a shave ice. But beyond that, we don't explore that much further.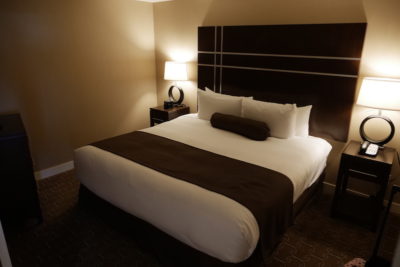 It's amazing the jewels you can discover when you start to explore a new city. Especially when you have the luxury of a hotel room to return to each night. We got to spend two nights at the River Rock Resort & Casino, and it really did feel like a getaway. First up, the hotel is awesome. We had a lovely one bedroom, and the kids did okay sharing a bed one out of the two nights. (The first night we were graced with our daughter's knees and elbows between us, but it's amazing what a row of pillows between them did for the second night.) Side note: I travel a fair bit for work and have become a bit of a "hotel shower snob," and I am happy to report that the shower in our room was fantastic.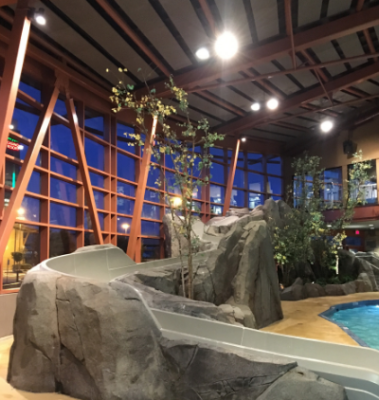 River Rock has everything you need – several restaurants (including a buffet), a fitness centre, a beautiful pool with a 70ft slide, a theatre that often features well-known comedians and bands, a casino, and a spa. Even a Starbucks in the lobby. It's like a mini Vegas with better views and no nasty smoke smells in the casino. It's right on the Skytrain line and offers free self-park or valet parking. We were also close enough to all major amenities, so we could run to the local liquor store and grab a bottle of wine, which was handy. What's a getaway without wine? 
And I need to mention – it has the most EPIC plane watching. Seriously, our son would have stayed by the window the entire time if we let him. 
The planes fly right overhead as it's on the flight path just moments from landing. But by some magical sound barrier the planes were not overwhelmingly loud, and they luckily didn't fly that route at night. We brought the iPad so he could use the plane tracker app and he was beyond excited. If you have a plane-obsessed kid like we do, this is the place. 
Our first night River Rock hosted an awesome buffet and the kids' eyes just about bugged out. They could have ANYTHING?! What resulted was the typical plate of chicken nuggets, mac and cheese and multiple desserts, but I did sneak a couple of veggies on their plates before they attacked the candy table to resort had set up for us. There were lots of options for all tastes, and I definitely overdid it at the sushi station.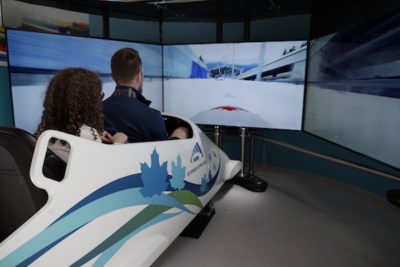 The next day it was all about exploring. We got tickets to go check out the Richmond Olympic Oval, which is where speed skating took place for the Vancouver 2010 Olympics. The venue has since been reconfigured and now serves as a community multi-sport centre and includes two ice hockey rinks, two running tracks, a climbing wall, and a flexible area which can be used for a number of other sports. The kids (okay, we did too) loved trying the simulators in the Richmond Olympic Experience (ROX) section, which is an interactive museum to celebrate Olympics and Olympians. My favourite section was the collection of torches from past Olympics. 
That afternoon I was treated to an awesome pedicure at the River Rock's on-site spa, Absolute Spa. It was lovely to sit and relax for a bit, as those moments don't come along often. And now my toes are summer ready!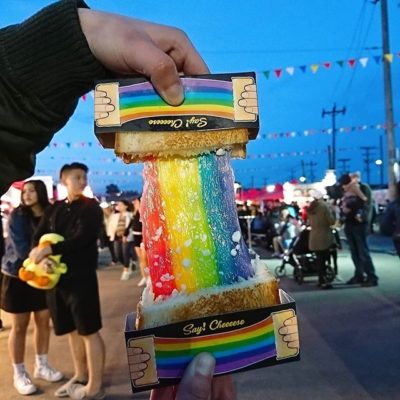 That night Tourism Richmond took us to the Richmond Night Market, an open-air weekend market that's open every summer evening and has LITERALLY any food you could ever imagine. There are 120 food vendors with over 600 items. Fan favourite – the rainbow grilled cheese. It's just a five minute walk from the resort, but totally accessible by Skytrain and parking is free on-site. This market is not for the faint of heart – it is popular, which means BUSY. I recommend waiting til kiddos are a bit older and definitely not in a stroller, as navigating the crowds can we a challenge. But definitely worth a trip to experience it and try all the awesome food!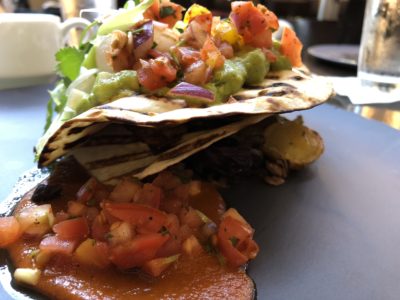 We capped the weekend off with an incredible brunch at River Rock's Curve Lounge. We had actually eaten lunch there the day before, but this brunch was BEYOND. Every dish we tried was spectacular. There was a burger Benedict called the "Proper Butcher Benny," and my husband's favourite was the "Curvalicious Ranchers," pictured here. They even had a build-your-own-Caesar bar. We didn't eat anything else until dinner, we were all so full! 
Even though all of this took place less than an hour from our home, it really did feel like we got away. Two nights was totally enough, and while we were busy, we still returned home feeling refreshed. 
I definitely recommend doing a staycation this year. Whether it's with your kids, your partner or a couple of girlfriends, taking a couple of days and changing up your location and routine is a great way to reset and recharge. 
Our Top Requirements for a Successful Staycation
great pool
affordable and awesome restaurants 
comfy rooms that are big enough for our family
nearby activities and amenities
self-care options in hotel or nearby (spa, fitness centre, walking trails, etc)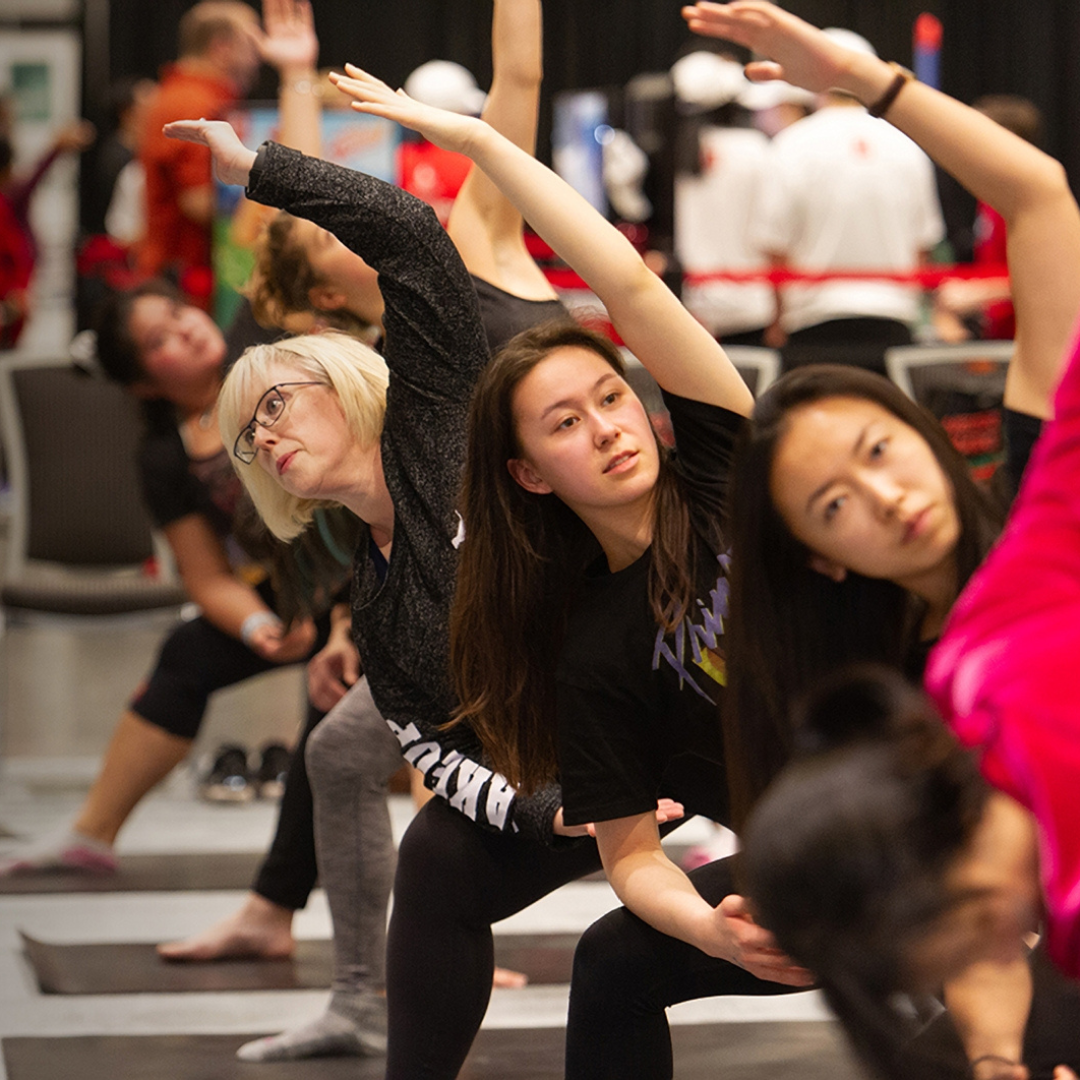 Guest article: Wellness trends in 2023 Written by The Wellness Show As we look to 2023, what trends will we see in fitness, food, self-care, beauty and sustainability?  The Wellness Show has been at the forefront of wellness trends for the past 30 years, and...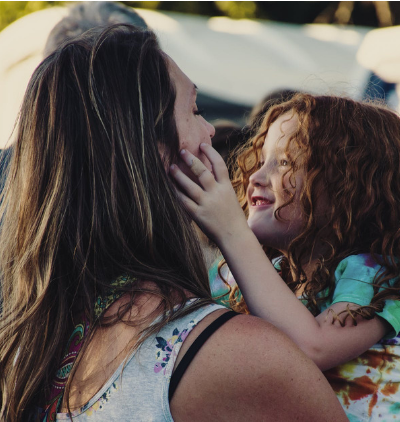 Guest article: Self-care in 2022 - Beyond Bubble Baths Written by The Wellness Show It's pretty clear that our definition of what we consider to be self-care has shifted immensely over the past two years. Yes, there was a time when scheduling a pedicure or...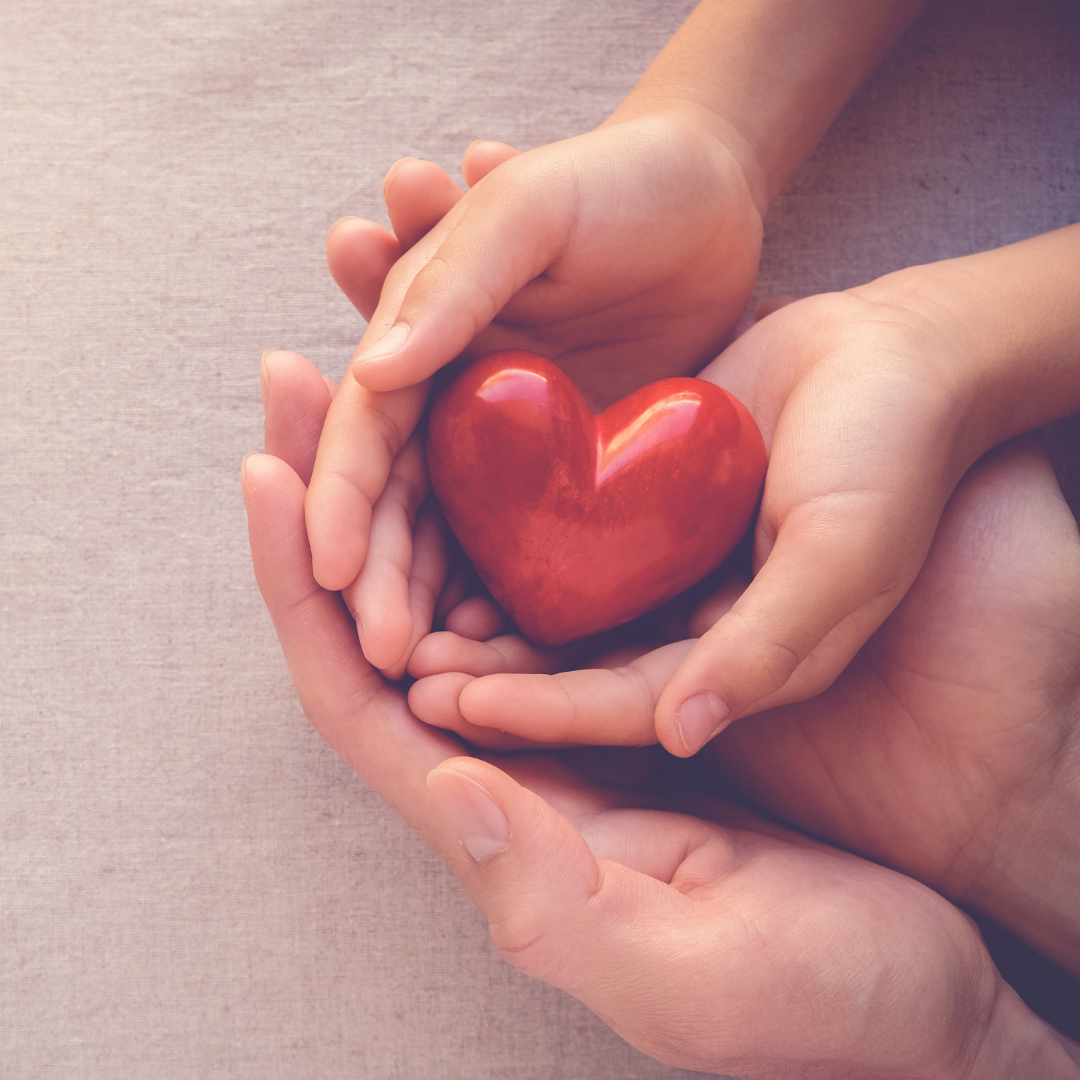 In a world with so many things to do, kids to manage and pandemics to worry about—just kidding, thank god there's only one of those right now—let's find one thing to count on that will help you focus on yourself when things are tough.