Resilience, recovery and owning your story:
A chat with Torey Linder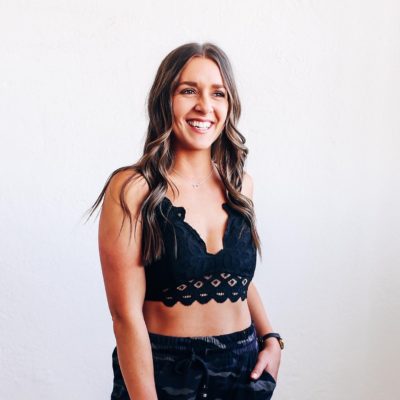 Today I am speaking with Torey Linder, and her story is truly incredible. Torey experienced incredible loss at a young age, which led to her challenges with life as what she describes as a "functioning addict." Her own family didn't know. She held jobs, she got good grades, she was doing "fine"…until she wasn't. Torey shares her story openly and with courage, through her journey to sobriety, through her incarceration, and how it was ultimately her own personal strength that helped her overcome her demons. "This is not going to be my story," she repeatedly told herself.
Torey lived with post-partum depression following the birth of her daughter two years ago, and she has made it her mission to share about it so that others can recognize the signs and don't feel alone in the experience. Her inner strength and resilience are truly inspiring.
Torey's bio:
My name is Torey Linder and I am 25 years old. My story can come off as pretty "sad" or "heartbreaking" & it's true, I used to see it like that. But after many years of hard work, physical & mental care, I only know this life, and it has gotten me to where I am today. I've learned and grown more than most have at my age. At 14 years old, the summer going into my freshman year of high school, I lost my mother suddenly to a brain aneurism. At 15, I started working two jobs to pay for my cell phone bill and anything I wanted for myself, so my dad wouldn't have to worry about me. In the meantime, I lost the two living grandparents I had left. The last semester of my senior year of high school I lost my dad, my best friend to brain and lung cancer. I numbed my pain from 16-20 years old.
I was a functioning addict. I got my medical assistant degree, I supported myself and kept a roof over my head. But the only thing (i thought) getting me through was being high on pills. I had gotten pretty deep and my life was spiralling. I got in trouble, did my time and became sober. I decided to never use drugs or harm myself to numb my pain again. I've been sober almost five years. I have now become a mother to a beautiful daughter. But it wasn't easy — I suffered from pre and postpartum depression. There's never a perfect time to have a baby, and that was definitely not the best time. I got through it, I pulled myself out and healed my mind and body through nutrition and exercise.
I am now finding my own way in entrepreneurship. I've found a passion for once, and six months ago I opened a mobile spray tanning business. I've finally found something I wake up everyday excited to do. I get to make women feel beautiful in their skin, just by adding a little colour. The postpartum moms who want to cover their stretch marks, women who've had skin cancer – they can have a healthy & uv-free tan. I provide a service that transforms women's lives instantly (but temporarily).
I don't wish for a different life. Of course I want my parents and the family I've lost alive again, but they aren't and I can't change that. Growing up I've always been in the sun and brown as a bear, just like my mom and dad. But the more educated I've become on how harsh and dangerous the sun has become, I want to stay away from it as much as possible. I love being tan though, it makes me feel beautiful, confident and I don't have to wear as much make up, so I started spray tanning by machine. I never liked going to a salon and having a machine spray me. One, I hated wearing loose, ugly clothes to the salon. Two, I felt very rushed, like I couldn't take my time to allow myself to dry and put on my clothes after. I felt like my clothes just wiped it right off. And three, I always left with issues, orange between my fingers or toes, didn't get all my body parts evenly, etc. I got my certification this November, and my goal is to make women (& men) feel beautiful and give them just a little more confidence in themselves. I'm not here to judge anyone's body, I'm just here to make people tan without the horrible effects of harsh UV rays!
Hey mama! If you're enjoying the
Mom Camp: Around the Campfire
podcast, please
subscribe
and share.
Resilience, recovery and owning your story: A chat with Torey Linder