Learning to work and school from home: A chat with Tara Cooper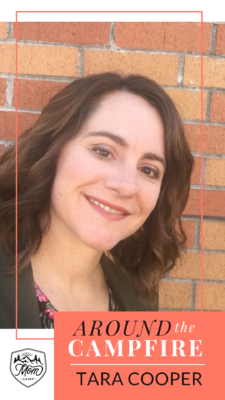 Working at home while parenting AND trying to facilitate online learning is a huge juggling act. It's so new for most of us, and I don't know about you, but I basically feel like I'm failing in ALL the areas. In today's episode I chat with Tara Cooper from Dancing with Chopsticks, about her best tips on how to work from home AND school from home in this challenging time. Tara is a long-time homeschooler at the same time as working from home, and is passionate about helping moms calm the chaos and lead our kids through this challenging season. She shares their family practices that prioritize listening over telling, and opening up space for each family member.
Tara has some fabulous advice and a very reassuring outlook, and I so appreciate her coming on the show to share her gifts.
Tara's bio:
Hi, I'm Tara. A freelance marketing & communications consultant, mom to two teenagers, wife to Chris (for 22 years and counting!), and a former homeschooler. I accidentally fell into homeschooling when we went through a job change and sudden international move. Before I knew it, "just one year" turned into 8.It's hard to beat personalized learning, studying marine biology by snorkelling with dolphins, and US History at Pearl Harbor! Eventually, I added my own work back to the mix, and juggled both worlds before my kids went back to traditional schools. Through those years I learned a few things, mostly the hard way. I also gained a wealth of perspective and learning tools. In this uncharted season with COVID-19, I'm pulling out my toolbox to get our family settled and I'd love to share it with you.
I'll bring strategies and support to help you:
Calm the chaos
Lead your kids through this season
Help you keep up with work
We're all in this together. Let's find ways to help each other thrive in this unexpected life.
Here are a couple of quick links you may want for your show notes:
1. Using a Learning Box – a great tool for pre-school – middle school to calm the chaos, get them organized, and guide them to independence.
2. My Top 3 Tips for Coworking with the Kids – things like using music ? ? as an auditory cue it's work time, and to create an environment of focus and calm.
3. Creating Space for Connection – How we use a Family Journal and our Big 3 to create space for communicating expectations, and more. You can get a downloadable version of the journal, too!
4. And even my full Work + School From Home Guide – A free resource and email support through this season. The guide includes printable schedules, a Family Journal, and What to Teach: Ideas to Spark Curiosity. A resource that can be used to supplement what your child's school is sending, or get you started if you're on your own.
Find me on FB and IG @dancingwithchopsticks.
Learning to work and school from home: A chat with Tara Cooper