Parenting, entrepreneurship and not taking life too seriously:
A chat with Mabel's Labels Co-founder Julie Cole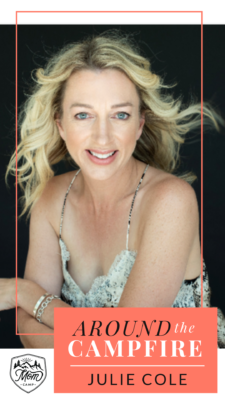 Mabel's Labels literally created their own industry, changing the lives of moms everywhere. They created their personalized, innovative, dishwasher and laundry-safe labels so that all that stuff didn't go missing as frequently.
But what's the story behind the labels? In today's episode I chat with Julie Cole, Co-founder of Mabel's Labels. Back when her son was diagnosed with autism at the age of three, Julie, her sister and two friends decided to dive into the world of entrepreneurship. She left her law career and balanced her schedule between creating a resource team for her son (he's now in second year university) and building what would become an incredibly successful business. Julie is a mom of six and a total inspiration as someone who gets things done while not taking like too seriously. She has awesome mom wisdom AND entrepreneur wisdom to share, and does just that throughout this chat.
"We are all the authors of our own book." — Julie Cole
Julie's bio:
Julie Cole (LL.B, M.A.) is a recovered lawyer, mom of six and Co-founder of Mabel's Labels. Mabel's Labels has grown from basement start-up into an award winning, celebrity endorsed and international marketplace leader. As company spokesperson, Julie is well-known amongst North American businesses and entrepreneurs. As a digital influencer and sought after speaker and emcee, she has informed and entertained audiences at countless conferences including The Sage Summit, Marketing To Women, Mom 2.0, Canadian Marketing Association, International Camping Conference, to name just a few. Julie is no stranger to the media, having appeared on NBC's The Today Show, HLN's Raising America, Canada AM, Breakfast Television, The Marilyn Denis Show, among many others. Julie is a syndicated blogger for The Huffington Post, modernmom.com, PTPA Media, Yummy Mummy Club, and her company's Mabelhood blog. Her writing has also appeared in The Globe and Mail, Profit Magazine, Chicken Soup For the Soul – Power Moms and numerous websites. Mabel's Labels has been featured everywhere from The View to Forbes.com. While writing and speaking across North America, Julie is raising her crew of six in her hometown of Burlington, Ontario.
Parenting, entrepreneurship and not taking life too seriously: A chat with Mabel's Labels Co-founder Julie Cole