Making sure you're in the memories:
A chat with Nicole Smith, founder of Flytographer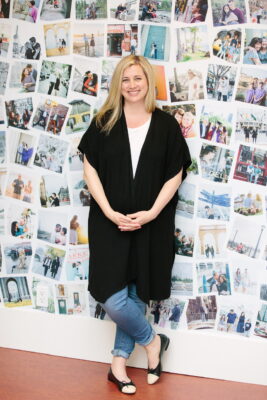 In today's episode I am chatting with Nicole Smith, founder of Flytographer. I am obsessed with this company and totally inspired by Nicole as a mom and entrepreneur for creating such an incredible service. If you don't know about Flytographer, it's kind of like AirBnB for photo shoots, anywhere you travel. She has created a massive network of photographers in 400 cities around the world, and a seamless central booking system. But it's so much more than that, and Nicole shares what she loves most about the service. 
We booked Flytographer for our family trip to Maui and it was awesome (shoutout to Taena!). We came away with the best souvenirs possible, beautifully captured memories. It was easy, quick, and super fun. 
Nicole and I chat about how so often moms are the ones behind the camera, and don't show up in the family photos as much as everyone else. Photos can be a legacy for your family and you need to be there too! 
Nicole Smith is the founder and CEO of Flytographer, a marketplace that connects people with local photographers in cities around the world for fun, hassle-free photo shoots.
Launched as a side-hustle in her home office in 2013, Nicole has grown Flytographer into a multi-million dollar profitable business that operates in 350 cities across six continents, and was ranked as one of the fastest-growing startups in Canada in 2017 & 2018 by Canadian Business Magazine.
Conde Nast Traveler has called Flytographer "The Future of Travel Photography" and Travel + Leisure has said it's "The perfect gift for a couple going on a once-in-a-lifetime dream vacation." Flytographer has appeared everywhere from a Netflix show to The New York Times to Oprah.com (where it was called an "Ingenious travel hack").
Prior to Flytographer, Nicole spent 13 years in global marketing and consulting roles at Microsoft.
Nicole was selected as an E&Y "Winning Women Class of 2018" and was featured in Mashable's "Eight Women Shattering The Travel Industry's Glass Ceiling." She is also a board member for The Forum for Women Entrepreneurs in Canada.
Connect with Flytographer:
Website
Social links
https://www.instagram.com/flytographer/
https://www.facebook.com/FindFlytographer
https://twitter.com/flytographer
Making sure you're in the memories: A chat with Nicole Smith, founder of Flytographer