Finding self-compassion and humour when living with chronic pain:
A chat with writer Alison Tedford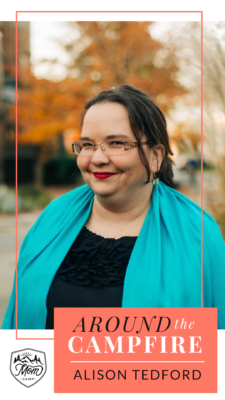 Alison Tedford is a mom, a freelance writer and content marketer. We talk about how she transitioned from her government job into the full-time entrepreneurial life, but one of the most incredible things about Alison is a condition she lives with every single day. Alison is diagnosed with a connective tissue disorder which causes her joints to dislocate from the slightest movement, and has her living with chronic pain. She shares how her condition impacts her daily life, and the adaptations she has had to make for activities as simple as putting a jug of milk in the fridge. What's truly amazing about Alison is the awesome humour she brings to any situation, and how she has learned self-compassion in the face of her struggles. She is an awesome mama and an awesome human and I hope you find her as inspiring as I do.
Alison's bio:
Alison Tedford is a content marketer and freelance writer from Abbotsford, BC. She left behind her federal government job in 2016 to launch her new career as a marketing consultant. She's an Indigenous mom who struggles with a connective tissue disorder and was recently selected for an advocacy training program for people with her condition. She's been published on Al Jazeera, CBC, Scary Mommy, Asparagus Magazine and has a piece coming out in WestCoast Families. When she's not writing she's on the sidelines of a lacrosse game cheering her son on. 
You can find Alison online at:
www.instagram.com/feelbettermarketing
https://www.facebook.com/feelbettermarketing/
Finding self-compassion and humour when living with chronic pain: A chat with writer Alison Tedford