The Fill Your Bucket Method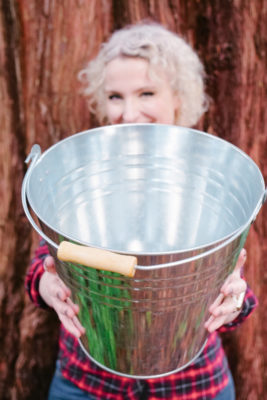 Have you filled your bucket lately?
It's like the instruction to put on your own oxygen mask first. It sounds selfish at first, but you're no good to anyone if you're not getting oxygen. It's the same principle when it comes to filling your own bucket. You can't pour from an empty bucket, or a bucket with holes and leaks. You need to take care of your own bucket first. You need to take care of YOU so that you are fully able to take care of those around you.
Mama, you are taking care of all the things. You are managing your family, building your business or career, doing it ALL. To the outside world it might seem as though you are a master at getting it all done. "How does she do it?" people ask. You might feel ashamed because you know the truth: You don't do it all. Nine out of ten times we put ourselves at the very bottom of our own priority list. We may be managing all the stuff for everyone else, but we are not managing the stuff for ourselves. We are putting our health, self-care, and desires last.
This 4-week program is about YOU. It's time to recharge, and make your own well-being a priority. We do that in three steps. First, you will learn how to set a healthy foundation by establishing simple habits that will have huge impacts on your energy and wellness. Second, you will identify your personal priorities. No human has time to do ALL the things, so you need to figure out those things that matter MOST. Third, you will learn how to establish healthy boundaries to protect those priorities. Over the four weeks you will learn how to put yourself back on your priority list.
The Fill Your Bucket Method will give you everything you need to start making your physical, mental and emotional health a priority. You will come through the program with more energy, more confidence and with the feeling that you are in control of your well-being and your time.
The Fill Your Bucket Method is currently being updated with some awesome new content and resources.
Stay tuned for when it opens up soon!