​Revolutionizing the ideals of the fitness industry:
A chat with Big Fit Girl founder Louise Green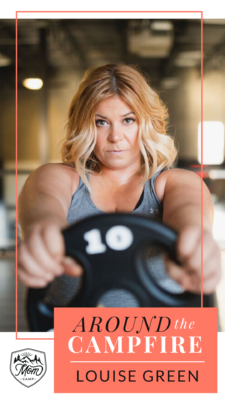 My guest today is Louise Green, founder of Big Fit Girl. Louise has made it her life's work to change the narrative and idealistic standards of fitness culture. We talk about plus-size fitness and the barriers that exist in society, the body positivity movement, and how it's almost always our mind that holds us back and not our bodies when it comes to fitness and physical activity. Louise shares how she helps women overcome the mental barriers of starting physical activity, including through her new Big Fit Girl app. We talk about motherhood and entrepreneurship, and how (or if) she finds balance. She is an inspiration and she is changing the conversation when it comes to fitness ideals. It's a fascinating chat and I can't wait for you to hear it.  
Coach, Author, Influencer, Activist, Big Fit Girl
As a celebrated Author, Influencer and Award-Winning Trainer, Louise has been changing the narrative and idealistic standards of our fitness culture since 2007.
Louise has worked the trenches for over 10 years, banking over 10,000 hours physically training women who are considered outside the "cultural norm." Louise has refined unique intelligence into how this group is motivated and responds to fitness practices and messaging. 
Louise Founded Big Fit Girlâ, now a brand, a book and a monthly magazine column, after forging a global movement following the release of her book. Louise travelled Canada, the USA and the UK advocating for size-inclusive fitness and pushing back on stereotypes cultivated through cultural bias around larger bodies. Challenged many times on live national TV and radio shows, Louise defended this ethos.  She boldly stands by the message that diets don't work but empowering women, at every size, does.
Louise is the voice that thousands of women rely on to change our visual and cultural landscape in relation to confidence and health and wellness. Her movement allows for women to unearth their inner athlete and love their bodies, at every size and in this climate, that is a controversial rebellious and revolutionary act.
Louise opened the first plus-size fitness franchise in Canada in 2007 and has since gone on to take the world by storm. She is the first plus-size athlete to be featured by Triathlete Magazine, Bicycling Magazine, Impact and Runner's World UK.
She has written for SELF Magazine, Refinery 29, Jane Xo, The Huffington Post and the Guardian to name a few.
Louise has been named one of the Top Trainers to follow by SELF Magazine, One of Eight Badass Women Who Prove Fitness has no Size by People Magazine, one of Sixty Barbie Role Models Positively Impacting Girls, by Mattel, Top 100 Health and Fitness Influencers by Optimyz Magazine (3 years in a row) and named one of 5 Women Boldly Changing the World for Women and Girls by Women of Influence.
Louise is the Author of Big Fit Girl, Founder of the Big Fit Girl Fitness App and a Columnist at SELF Magazine. 
Louise is a force and Big Fit Deal.
You can find Louise on Instagram at: @louisegreen_bigfitgirl
Revolutionizing the ideals of the fitness industry: A chat with Big Fit Girl founder Louise Green