Simplicity, minimalism and total abundance:
A chat with Allie Casazza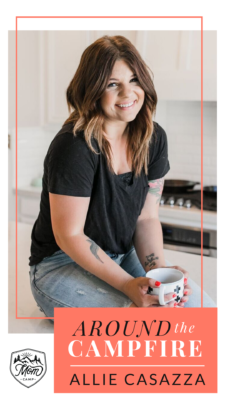 Allie Casazza is known as "The Life Minimalist," and is passionate about helping moms declutter their homes and their lives. She's a mom of four kids and has figured out rhythms and routines to make like simpler and more flexible. Her family lives a life of simplicity while still living a life of total abundance.
She shares simple ways to think about home maintenance, schedules, and routines. By attaching tasks to "anchor events," like brushing your teeth, laundry or making coffee, you make your task list more of a habit than a chore.
You're going to love Allie. She's totally open, direct and personable. She's real and honest with what works and what she struggles with. This is an awesome chat and Allie shares so much helpful advice that can be implemented in your life right now.
"What takes up our space takes up our time." — Allie Casazza
BONUS: How awesome is this?! Allie has created a resource just for our listeners! Go to https://alliecasazza.com/momcamp to get started.
Allie's bio:
Allie Casazza is the host of The Purpose Show – a top-rated podcast – and the creator of online courses that have earned her international attention for her fresh, practical lifestyle strategies for moms. Known as 'The Life Minimalist', she encourages and inspires women to pursue abundant life by creating space for what matters most. Allie and her husband, Brian, live with their four young children in Southern California wine country.
Simplicity, minimalism and total abundance: A chat with Allie Casazza